Clinical Laboratory Microplate Washer (AM-U670)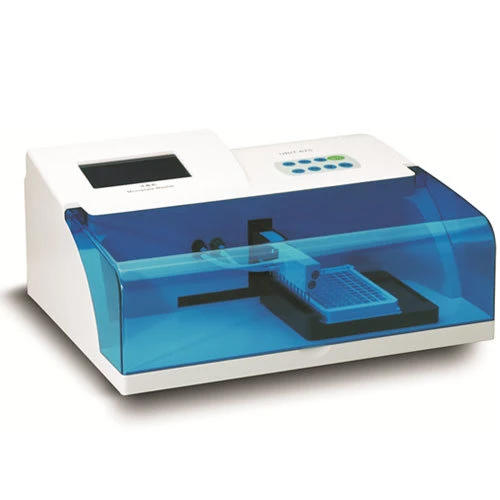 Specifications
·Plate type: U, V or flat-bottom
·Wash head:8-probe or 12-probe
·Wash programs:up to 50
·Wash cycles:1~20
·Volume range:50~450μL/well
·Residual volume:<1uL/well
·Dispense precision:CV<2%
·Soak Time:1~3660s tunable
·Pause Time:0-60s tunable
·Absorbing Time:2-10s tunable
·Shaking Time:0-60s tunable
·Display:240*128 LCD display
·Keypad:8 touch keys
·Output:RS-232 port
Features
·Compatible with U, V, or flat-bottom plates
·Minimal residual volume (<1uL/well)
·Interchangeable manifolds for 8- and 12-well strips
·Unattached absorb head and dispense head
·Positive displacement pump with low noise
·Overfill washing and overflow protection
·Automatic waste liquid warning
·Bottom washing function
All our medical products meet with international quality requirements - CE Mark, some have FDA Certificate.
We have high efficient groups of professional technical and sales staff are able to provide you complete range of service at any time. We are capable of assisting our global clients with the development and research of medical products. It is our principle to provide with our customers with best quality products and services on the basis of mutual benefit. And most important, our factories are well selected, and our quality are of top one from China. Thus, we have wined great reputation in this line, and become the main supplier of medical products in Africa countries and Middle East countries, at present, we are also exported our products to most of the countries in the world, among which some are developed countries like USA, European countries.
For more information, please visit our website or contact us directly with your questions or inquiries. We are looking forward to receiving your correspondences in the near future.